Standard features
New KT LCD 8.4 inch color touch screen display is larger, providing improved visibility and easier operation.
ITS MAIN FUNCTIONS:
Name Drop: Separates names in a multiple name design for view and sewing purposes.
Frame Centering Function
Frame Limit Function: Able to restrict machine operation when a design does not fit to the frame or when there is a risk of a needle bar hitting the frame.
Shortcuts: Customize most-used icons to save time.
LAN Connector Standard, 2 USB ports.
70 million stitch capacity, 100 memory locations.
its main assetS:
++ Embroidery on tubular and caps articles.
++ Possibility to add a sequin system.
++ Standard portal frame.
its main FEATURES:
MODEL
Embroidery
Area (mm)
Cap Frame
(mm)
Number of
Needles
Stitch Length
(mm)
Speed
(rpm)
BEKT-S1502CII
450×380
79×360
15
0.1 ~ 12.7
(Frame for finished good)
200 ~ 1100
(Tubular frame & Cap frame)
200 ~ 1000
MODEL
Power Supply
(V)
Power Consumption
(kw)
Dimensions (mm)
Weight
(kg)
L
W
H
A
D
G
BEKT-S1502CII
1Ø
100 ~ 240
0.225
1625
1245
1610
1425
770
1447
360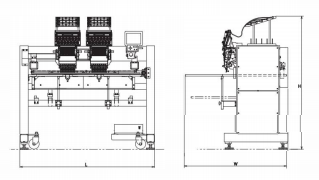 OPTIONS:
Some examples of embroideries:
* Features and specifications are subject to change at any time without notice.